Print UPS Labels
In order to print a UPS Shipping label in AccountEdge, the type of printer used to print the UPS Shipping label must first be entered in AccountEdge. The default printer will be set on the Setup>UPS Shipping >UPS Shipping Setup > Printers window. To correctly print your UPS Label, you must select the correct Printer Type in the UPS Shipping Setup>Printers panel before a shipment is created:
There are two options that can be used for the Printer Type: Laser/Inkjet or Zebra 450
Laser Inkjet
If you are printing UPS Shipping Labels on a Laser or Inkjet printer, select Laser/Inkjet. Your printed label will look like this:
Zebra 450
If you are printing UPS Shipping Labels on a Zebra printer that supports ZPL, select Zebra 450. A ZPL label is formatted using the ZPL command language. The native file looks like this:
The printer will convert the code above and print directly on your roll of thermal labels.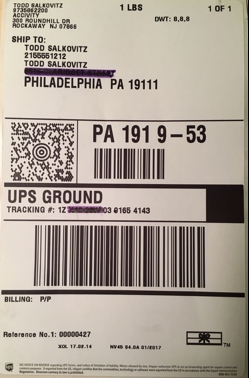 At the time the shipment is created in AccountEdge, UPS creates the shipping label based on the UPS Printer type entered in to AccountEdge. Once the shipment is created, the format of the shipping label cannot be changed. If you have selected the wrong format, the shipment will need to be voided and recreated once the correct printer type is selected.
*** If you are using a Zebra ZPL Print and the label is still not printing correctly (i.e. only printing a partial label), please calibrate your printer. See the owner's manual for information on how to calibrate your printer.