Acclivity Core Values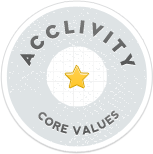 We are the underdog. We compete with mega corporations that spend more on office supplies than we do on advertising. Yes, we make great products. World-class products.
But it's understanding the importance of each and every employee and customer and our core values that will define our identity and shape our success.
WE ARE WHAT OUR CUSTOMERS SAY WE ARE.
WITH TECHNOLOGY, EFFORT, SMARTS OR RANDOM ACTS OF KINDNESS. IT'S WHAT WE DO.
DON'T LEAVE YOUR BEST AT HOME. WE WANT ALL OF YOU.
NEVER ENGAGE IN ANYTHING THAT DOESN'T MAKE SENSE IN THE LIGHT OF DAY.
TAKE THE INITIATIVE TO DO MORE THAN YOU EVER THOUGHT POSSIBLE. BE DARING.
WE WILL MAKE MISTAKES. WE WILL OWN UP, LEARN AND MOVE ON. ALWAYS BETTER FOR IT.
PUT YOURSELF IN SOMEONE ELSE'S POSITION. EMPATHY IS UNDERRATED.
DON'T OVERCOMPLICATE YOUR THINKING. WITH SIMPLICITY OFTEN COMES ELEGANCE.
OUR COMMUNAL SINK ONLY WORKS IF EVERY ONE WASHES THEIR OWN DISH. LITERALLY AND FIGURATIVELY.
LAUGH AT YOURSELF. WITH EACH OTHER. NONE OF IT MATTERS OTHERWISE.