Small business accounting software for Mac
AccountEdge is premium accounting for Mac, offering the most complete solution for your Mac small business.
$299 new
$159 upg
Free trial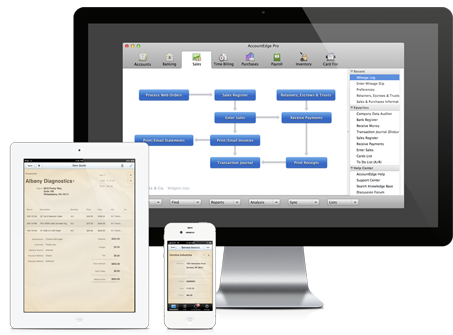 The right choice for your small business
Create sales
Prepare a quote for a customer, and turn into an invoice in one click.
Manage your banking
Write checks, prepare bank deposits and reconcile your account.
Manage your customers
Track important customer, employee, and vendor information.
Track and bill your time
Use multiple billing rates and bill in hours, increments of hours, or units.
Manage your accounts payable
Track purchases and payables and calculate taxes.
Multi user access
Network Edition is optimized to work over a Mac OS X network.
Manage your inventory
Total control: multi pricing levels, kit-building and negative inventory.
Process payroll
Edit, record and process paychecks. Deliver by email or print them out.
Free email support
Support is provided by our knowledgeable staff via email.
Advanced bookkeeping for Mac
AccountEdge is a robust small business accounting app for Mac OS X that follows rules your accountant will love without you needing to become one.
AccountEdge 2013 introduces new functionality and expands on existing features, like ability to attach documents to records, overhauled bank statement importing, and AccountEdge Mobile 2. Learn more about AccountEdge 2013.
Free Accountant Copy
We'll send your accountant a copy of AccountEdge, Mac or Windows, free of charge, so you can share your files and get on the same page.
Try it free
Download a free 30 day trial version and see if AccountEdge Pro's powerful accounting and management features are right for your small business.
Switch from QuickBooks
We've been happily developing Mac accounting software since 1989. If you're thinking about switching from QuickBooks, find answers to all of your questions.
Learn about feature and cost comparisons, your options for importing old QuickBooks data, conversion services, the $100 rebate and other reasons to become a former QuickBooks customer at our Compare to QuickBooks site.
Hey, AccountEdge Pro 2013 is here
Check out all of the new features.
Fully integrated apps and services
Well suited to your small business